Item Added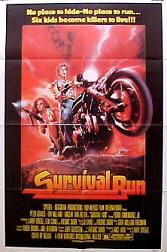 Spree
(1978)
$19.99
aka: Survival Run
A group of teenagers drive out into the desert in search of sex, beer and general good times. When their van breaks down, they find a group of prospectors who welcome the kids and offer them a place to stay until they can get help. It soon becomes evident, however, that there is more to these prospectors than they claim, and soon the teens are fleeing for their lives. With Peter Graves and Ray Milland.

Ray Milland died of lung cancer on March 10, 1986. He was 81.

After returning from a brunch in Pacific Palisades, CA on March 14, 2010, Peter Graves collapsed and died of a heart attack at the age of 83. He was four days from his 84th birthday. It was reported that one of his daughters attempted to revive him, but was unsuccessful.

Quantity: 1


Sci-Fi, Horror, Cult, Fantasy.... Super Strange Video has the ultimate collection of rare and vintage cult, horror, sci-fi, erotic movies. Featuring Barbara Steele, Bela Lugosi, Boris Karloff, Brigitte Lahaie, Bruce Li, Christopher Lee,, Evelyn Ankers, Frankenstein, Gamera, George Sanders, Guiron, Helga Line, Jiger, Kumi Mizuno, Lon Chaney, Lorena Velazquez, Michael Gough, Michael Rennie, Paul Naschy, Peter Cushing, Robert Reed, Santo, Starman, Ted Cassidy, Valerie Leon, Vincent Price, Viras, Zigra