Item Added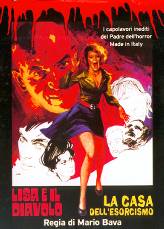 The House Of Exorcism
(1976)
$19.99
aka: La Casa Dell'esorcismo
Lisa (Elke Sommer) is a tourist in an ancient city. When she gets lost, she finds an old mansion in which to shelter. Soon she is sucked into a vortex of deception, debauchery and evil presided over by housekeeper Leandro (Telly Savalas).

Originally Lisa And The Devil, this film was re-edited and re-released adding the horror of diabolical possession following the phenomenal success of The Exorcist.

Telly Savalas died on January 22, 1994, at the age of 72, just one day after his birthday, of complications of cancer of the bladder and prostate at the Sheraton-Universal Hotel in Universal City, CA.

Quantity: 1


Sci-Fi, Horror, Cult, Fantasy.... Super Strange Video has the ultimate collection of rare and vintage cult, horror, sci-fi, erotic movies. Featuring Barbara Steele, Bela Lugosi, Boris Karloff, Brigitte Lahaie, Bruce Li, Christopher Lee,, Evelyn Ankers, Frankenstein, Gamera, George Sanders, Guiron, Helga Line, Jiger, Kumi Mizuno, Lon Chaney, Lorena Velazquez, Michael Gough, Michael Rennie, Paul Naschy, Peter Cushing, Robert Reed, Santo, Starman, Ted Cassidy, Valerie Leon, Vincent Price, Viras, Zigra