Item Added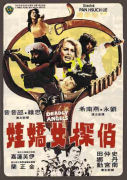 Deadly Angels (UPGRADE)
(1977)
$19.99
aka's: Qiao Tan Nu Jiao Wa/Ciu Taam Neui Giu Wa/The Women Detectives/俏探女嬌娃
Three female detectives, from Hong Kong, Korea and Singapore, go undercover in a cabaret to expose a murderer. Stars Tony Liu, Nancy Yen, Dana and Evelyn Kraft.

Now from a 35mm German import print, in excellent picture quality and in widescreen format.

Quantity: 1


New Arrivals. Super Strange Video has the ultimate collection of rare and vintage cult, horror, sci-fi, erotic movies. Featuring Barbara Steele, Bela Lugosi, Boris Karloff, Brigitte Lahaie, Bruce Li, Christopher Lee,, Evelyn Ankers, Frankenstein, Gamera, George Sanders, Guiron, Helga Line, Jiger, Kumi Mizuno, Lon Chaney, Lorena Velazquez, Michael Gough, Michael Rennie, Paul Naschy, Peter Cushing, Robert Reed, Santo, Starman, Ted Cassidy, Valerie Leon, Vincent Price, Viras, Zigra