Item Added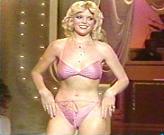 The $1.98 Beauty Show
(1978-1980)
$49.99
NOW, BACK FOR A LIMITED TIME ONLY!

Oddball comedian Rip Taylor hosts this half-hour comedy series that features very hot and not-so-hot contestants, in some of the sexiest swimsuits from the late 70's, in which the winner is awarded a $1.98. This show was created by Chuck Barris, who declared it to be one of his personal favorites.


Sold as an 11-DVD-R set.


NOTE: This set includes 51 episodes from this now impossible to find show. 8 episodes out of the 51 were taken from original broadcasts back in October and November of 1985. Those 8 episodes include the original TV station commercials from 1985. This is the largest number of episodes (51) currently available anywhere for this show. Guaranteed.

Quantity: 1


Brigitte Lahaie. Super Strange Video has the ultimate collection of rare and vintage cult, horror, sci-fi, erotic movies. Featuring Barbara Steele, Bela Lugosi, Boris Karloff, Brigitte Lahaie, Bruce Li, Christopher Lee,, Evelyn Ankers, Frankenstein, Gamera, George Sanders, Guiron, Helga Line, Jiger, Kumi Mizuno, Lon Chaney, Lorena Velazquez, Michael Gough, Michael Rennie, Paul Naschy, Peter Cushing, Robert Reed, Santo, Starman, Ted Cassidy, Valerie Leon, Vincent Price, Viras, Zigra