Item Added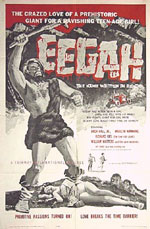 Eegah
(1962)
$19.99
aka: Eegah! The Name Written In Blood
While driving through the desert, a teenage girl (Marilyn Manning) is frightened by a seven-foot giant (Richard Kiel) which appears in her path. After escaping, she returns to the site with her boyfriend (Arch Hall Jr.) and her father in an attempt to find the giant. They do, and it then proceeds to terrorize them and the rest of Palm Springs, California.

Filmed in Bronson Canyon, the same desert where Robot Monster (1953) was filmed. Eegah's cavern is Ro-Man's headquarters seen from a different angle.

Marilyn Manning was Arch Hall Sr.'s secretary at the time of filming.

Arch Hall Sr. claimed that he came up with the idea for this film after meeting the 7' 2" Richard Kiel.

Quantity: 1


Sci-Fi, Horror, Cult, Fantasy.... Super Strange Video has the ultimate collection of rare and vintage cult, horror, sci-fi, erotic movies. Featuring Barbara Steele, Bela Lugosi, Boris Karloff, Brigitte Lahaie, Bruce Li, Christopher Lee,, Evelyn Ankers, Frankenstein, Gamera, George Sanders, Guiron, Helga Line, Jiger, Kumi Mizuno, Lon Chaney, Lorena Velazquez, Michael Gough, Michael Rennie, Paul Naschy, Peter Cushing, Robert Reed, Santo, Starman, Ted Cassidy, Valerie Leon, Vincent Price, Viras, Zigra