Item Added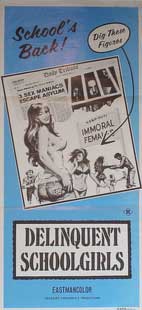 Delinquent Schoolgirls
(1975)
$19.99
aka's: Carnal Madness/The Love Maniacs/Bad Girls
Three sexual deviants (Michael Pataki, Bob Minor and Stephen Stucker) escape their asylum and rape and pillage the countryside until they run into a school of female karate students who kick the crap out of them! Also with Sharon Kelly and George "Buck" Flower.

Michael Pataki played Korax, who insulted Captain Kirk in the Star Trek episode "The Trouble With The Tribbles," and played Karnas in the Star Trek: The Next Generation episode "Too Short A Season." He died of cancer at age 72 on April 15, 2010 in North Hollywood, California.

Stephen Stucker played the loopy airport control room worker Johnny in Airplane! (1980). He died at the age of 38 from AIDS on April 13, 1986.

Quantity: 1


New Arrivals. Super Strange Video has the ultimate collection of rare and vintage cult, horror, sci-fi, erotic movies. Featuring Barbara Steele, Bela Lugosi, Boris Karloff, Brigitte Lahaie, Bruce Li, Christopher Lee,, Evelyn Ankers, Frankenstein, Gamera, George Sanders, Guiron, Helga Line, Jiger, Kumi Mizuno, Lon Chaney, Lorena Velazquez, Michael Gough, Michael Rennie, Paul Naschy, Peter Cushing, Robert Reed, Santo, Starman, Ted Cassidy, Valerie Leon, Vincent Price, Viras, Zigra