Item Added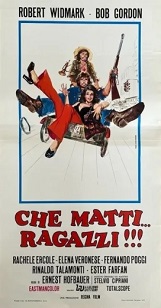 Che Matti...Ragazzi!!!
(1974)
$19.99
aka's: Dschungelmädchen Für Zwei Halunken/Amazonas Para Dos Aventureros/Muchachas De La Jungla Para Tres Bribones
Two adventurers. Jim (Wolf Goldan) and Jeff (Alberto Dell'Acqua), find a man they need to finance a wild excursion: Giovanni (Rinaldo Talamonti), the son of a millionaire, who is obsessed with the so-called treasure of Brazil's Amazons. Raphael (Ismael Ayala) will be their guide. But, as soon as the small party enters the jungle, they are captured by the Amazons, who are subjected to all their wishes. (In Italian language).

Quantity: 1



Sci-Fi, Horror, Cult, Fantasy.... Super Strange Video has the ultimate collection of rare and vintage cult, horror, sci-fi, erotic movies. Featuring Barbara Steele, Bela Lugosi, Boris Karloff, Brigitte Lahaie, Bruce Li, Christopher Lee,, Evelyn Ankers, Frankenstein, Gamera, George Sanders, Guiron, Helga Line, Jiger, Kumi Mizuno, Lon Chaney, Lorena Velazquez, Michael Gough, Michael Rennie, Paul Naschy, Peter Cushing, Robert Reed, Santo, Starman, Ted Cassidy, Valerie Leon, Vincent Price, Viras, Zigra