Item Added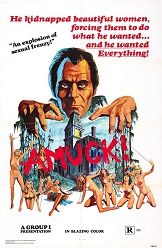 Amuck (35mm Upgrade)
(1972)
$19.99
aka's: Alla Ricerca Del Piacere/Amuck!/In Search Of Pleasure/Leather And Whips/Maniac Mansion/
Hot Bed Of Sex
Greta Franklin, a beautiful American blonde (Barbara Bouchet), arrives on an island near Venice and rings the doorbell of Richard Stuart, a famous novelist (Farley Granger) who lives in a beautiful house with his wife Elonora (Rosalba Neri). She manages to be hired as Richard's new secretary, the former one having disappeared without a trace. What Richard and Eleonora do not know - yet- is that Greta has a secret motive for taking the job: Not only did she know Sally, her predecessor (Patrizia Viotti), Sally was also her lover!

This film came from an uncut widescreen UK import print in excellent picture quality.

Quantity: 1



Sci-Fi, Horror, Cult, Fantasy.... Super Strange Video has the ultimate collection of rare and vintage cult, horror, sci-fi, erotic movies. Featuring Barbara Steele, Bela Lugosi, Boris Karloff, Brigitte Lahaie, Bruce Li, Christopher Lee,, Evelyn Ankers, Frankenstein, Gamera, George Sanders, Guiron, Helga Line, Jiger, Kumi Mizuno, Lon Chaney, Lorena Velazquez, Michael Gough, Michael Rennie, Paul Naschy, Peter Cushing, Robert Reed, Santo, Starman, Ted Cassidy, Valerie Leon, Vincent Price, Viras, Zigra