Item Added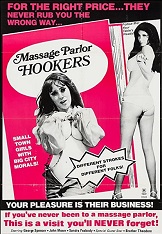 Massage Parlor Murders!
(1973)
$19.99
aka: Massage Parlor Hookers
A deranged, ferocious killer terrorizes the red-light district of Times Square in New York City by savagely bumping off the lovely young ladies who work at massage parlors located throughout the area. It's up to grouchy veteran detective Rizotti (George Spencer) and his younger, more cheerful partner O'Mara (John Moser) to figure out the maniac's identity and apprehend him before he strikes again. Also stars Sandra Peabody.

NOTE: Despite having a successful run in the grindhouse circuit, after 1974, this film disappeared and was only rediscovered in recent years.

Quantity: 1



New Arrivals. Super Strange Video has the ultimate collection of rare and vintage cult, horror, sci-fi, erotic movies. Featuring Barbara Steele, Bela Lugosi, Boris Karloff, Brigitte Lahaie, Bruce Li, Christopher Lee,, Evelyn Ankers, Frankenstein, Gamera, George Sanders, Guiron, Helga Line, Jiger, Kumi Mizuno, Lon Chaney, Lorena Velazquez, Michael Gough, Michael Rennie, Paul Naschy, Peter Cushing, Robert Reed, Santo, Starman, Ted Cassidy, Valerie Leon, Vincent Price, Viras, Zigra