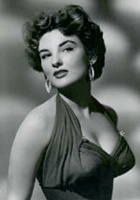 Born Mary Jane Hayes in Charleston, West Virginia on March 6, 1930, Allison won the title of Miss District of Columbia and represented Washington, DC in the 1949 Miss America pageant. Although unsuccessful, it provided her with the opportunity to work in local television before moving to Hollywood to work for Universal Pictures in 1954.
Her first film
Sign Of The Pagan
provided her with an important role in a relatively minor film. Playing opposite Jack Palance she played the part of a siren who ultimately kills him, but despite the strength of her debut, she played minor roles in her next few films. Originally cast in
Foxfire
(1955) she was removed from the film during a lawsuit she filed against Universal Studios for injuries, including broken ribs, that she had sustained during the filming of
Sign Of The Pagan
. Released from her contract, she was signed by Columbia Pictures in 1955.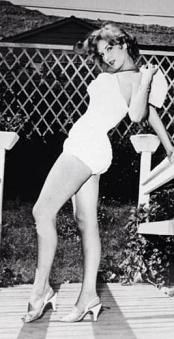 Chicago Syndicate
did not require her to do more than look glamorous in a series of evening gowns, but her next film
Count Three And Pray
gave her the role that she later described as the best of her career. She played the wife of Van Heflin, and the film co-starred Raymond Burr and Joanne Woodward in her debut. As a "Southern Belle" finally reduced to the role of a housekeeper, Hayes had several dramatic scenes, however when the film was released much of the attention of reviewers was focussed on Woodward, and Hayes was largely ignored. She appeared in films such as
Steel Jungle
,
Mohawk
, and
Gunslinger
(all 1956) but a fall from a horse during the filming of
Gunslinger
left Hayes with a broken arm and unable to work. After she recovered she began appearing in supporting roles in television productions.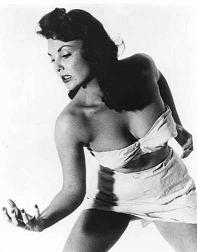 In 1958 she played the leading role in
Attack Of The 50-Foot Woman
(1958). With its science fiction storyline and low budget special effects, the film attained popularity with some movie fans, and in the subsequent years has attracted a cult film following. The film did not lead to better roles, however she remained constantly employed, and also found work as a model. During 1963 and 1964 she played a continuing role in the soap opera
General Hospital
but by this time her career was virtually over. A close friend of Raymond Burr since the filming of
Count Three And Pray
, she made several guest appearances on his
Perry Mason
series during this time. As her acting career declined, she began to experience severe health problems, and was unable to walk without a cane. In severe pain, her usually good natured personality began to change and she became emotional and volatile, making it difficult for her to secure acting work. She was given a very minor role in the 1965 Elvis Presley film
Tickle Me
, making her final appearances in small roles in such series as
Gomer Pyle, U.S.M.C.
in 1967.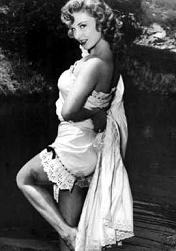 Hayes later said that the pain of her illness caused her to contemplate suicide, and she found that her symptoms were not taken seriously by doctors. Reading a medical book about the metal poisoning of factory workers, Hayes recognised the symptoms described as being similar to her own. Hayes began to question the ingredients of a dietary supplement she had been taking since 1964 and when she employed a toxicologist to test a sample of the product, he determined that it had an extremely high content of lead and concluded that Hayes was most likely suffering from lead poisoning. Hayes mounted a campaign to have the FDA ban the import or sale of the food supplement, finally achieving success in 1976 when they advised her that amendments were being made to the laws governing the importation of nutritional supplements, largely as a result of her situation.
An invalid, Hayes moved to San Clemente, California and her health continued to deteriorate. In 1976 she was diagnosed with leukemia and was treated regularly at La Jolla. While at the hospital receiving a blood transfusion, her condition unexpectedly and rapidly deteriorated as she experienced chills, flu-like symptoms and intense pain. She was transferred to the University of California Medical Centre in San Diego where she died the following day, on February 27, 1977.
From Wikipedia, the free encyclopedia.