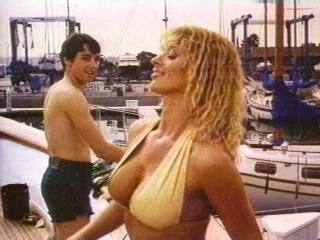 Sybil Danning (born May 24, 1947) is an Austrian actress known for her many roles in B-movies, science fiction films, and action movies.
Danning was born in Ried im Innkreis, Austria as Sybille Johanna Danninger. She became an actress after leaving home around 1968 at the age of 16. She was a notable sex symbol in the 1980s and some of her best known appearances include
Battle Beyond The Stars
,
Reform School Girls
,
Chained Heat
,
They're Playing With Fire
, and an episode of the 1980s TV series
V
. (She also posed regulary in
Playboy
throughout the early 1980's.)
While she still continued to make appearances at science fiction conventions, her role in 2006's
Jump
is her first on screen appearance since 1989. In 2007, Danning appeard in the Quentin Tarantino / Robert Rodriguez film
Grindhouse
in the Rob Zombie directed segment "Werewolf Women of the S.S." as deranged S.S. officer Gretchen Krupp . Danning will appear in Rob Zombie's
Halloween
which is also a 2007 production.
As of 2000, Danning has been serving as President and Chief Operating Officer for Adventuress Productions, which she co-founded in 1989 with S. C. Dacy and Robert P. Palazzo.
From Wikipedia, the free encyclopedia.