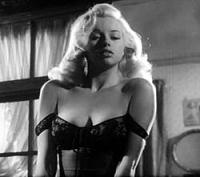 Diana Dors was born Diana Mary Fluck in Swindon, Wiltshire, England on the 23rd of October, 1931.
Diana had her career already started before Marilyn Monroe came along, but she was known as "The English Marilyn Monroe." She started taking her training at the Royal Academy of Music and Dramatic Arts and by the age of 15, she began acting. Her roles were mainly background ones, and she was portrayed as a sexy girl. As she got older, she began getting more important roles, but still remained a sexy image.
When Diana was born, her mother and herself nearly died from the birth. From then on her mother spoiled her and gave her everything she longed for. At age three, Diana knew she wanted to become an actress. She discovered this while going to the theatres with her mother.
Diana was taught at the best private schools. Her father, a railway worker, thought private schooling was a waste of money. At age 12, she looked and acted much older than she was, and at age 13, she placed in a local beauty contest and was offered a part in a thespian group. A year later she enrolled in an acting school and was the youngest in her class.
Her first camera experience was in
The Shop At Sly Corner
in 1947 and was a small part for which she was uncredited, but she didn't mind. She was on her way to the career she had dreamed of years ago. From then on, her career consisted of walk-on roles, uncredited roles, and eventually more mature roles.
After filming a film in 1982 called
Steaming
, Diana was diagnosed with cancer. She lost her battle with the illness on the 4th of May, 1984 in Berkshire, England, and the British were sad to have lost such a stunning actress. Her last movie was released the next year.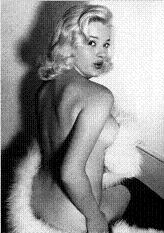 Diana wed Dennis Hamilton on the 3rd of July, 1951. They had begun divorce proceedings in 1958, but he died on the 31st of January in 1959.
On the 12th of April, 1959, Diana met Richard Dawson on The Steve Allen Show. They were married in New York. They had two sons, Mark (1960) and Gary (1962). They began divorce proceedings in 1964 and were divorced in 1967.
Diana's third and final husband lasted up until her death. She married Alan Lake on the 23rd of November, 1968. They had one son, Jason. Alan served 12 months in prison (1970-1971) for being in a pub brawl. On the 16th anniversary of his meeting Diana, he committed suicide on the 10th of October in 1984.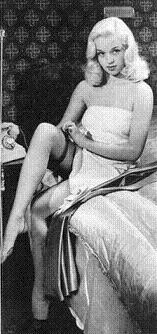 Before she died, Dors apparently hid away what she claimed to be over £2 million in banks across Europe. 18 months before her death, she gave her son Mark Dawson a sheet of paper, which she told him was a code that would reveal the whereabouts of the money. Her widower, Alan Lake, supposedly had the key that would crack the code. But Lake committed suicide only five months after Dors died, leaving Dawson an apparently unsolvable code. 21 years later, the code became the subject of a British documentary,
Who Got Diana Dors' Millions?
.
Diana Dors Quote: "They asked me to change my name. I suppose they were afraid that if my real name, Diana Fluck, was in lights, and one of the lights blew..."