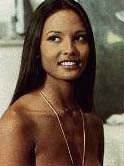 Laura Gemser (born October 5, 1950, Java, Indonesia) is an actress of Indo descent and is generally accepted as one of the 1970s most famous erotic icons. She is sometimes credited as Moira Chen, Laura M. Gemser or Laurette Marcia Gemser.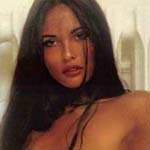 After modelling in various magazines in the Netherlands, Gemser began to take part in some soft erotic films. She became internationally recognized after starring in a number of
Emanuelle
films in the 1970s. These films were especially popular as late night fare on the Cinemax cable channel in the USA, which helped lead to the channel being dubbed "Skinemax" by late-night television watchers. For most adolescents in the 1980s, Gemser was the probably the most popular starlet amongst the teenage boys who couldn't legally rent or purchase the films. Although she appeared in numerous hardcore titles, she always had simulated sex. The "notorious" scenes in the
Emanuelle
series are hardcore inserts, although the versions of those films aired on cable has edited out the majority of such scenes. Most of her films were directed by Joe d'Amato, and they are now regarded as samples of the Italian erotic/horror cult films. Some of her films are
Emmanuelle 2
(1975),
Black Emanuelle
(1975),
Eva Nera
(1976),
Emanuelle In America
(1976),
Emanuelle And The Last Cannibals
(1977), and
Caligola: La Storia Mai Raccontata
(1981).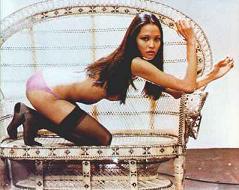 After more than a decade as a sex symbol, Gemser turned to costume design for mainstream film (although she continued taking small roles). Among others, Gemser provided costume design and coordination for the 1990 film
Troll 2
. The movie, as well as the costuming, was widely mocked by syndicated film critics, and it has been on several "worst movies of all time" lists since its release. In 1976 she married the actor Gabriele Tinti. They appeared together in about two dozen movies. Gemser retired from acting after his sudden death in 1991.
From Wikipedia, the free encyclopedia.