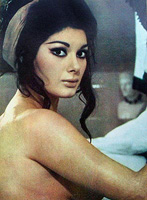 Edwige Fenech was born on December 24, 1948 in Bône, Algeria. Her father was Maltese and her mother was Italian. Fenech took part in a number of beauty contests as a young girl, winning the title of "Miss Mannequin de la Cote d'Azur" at just 16 years of age; later, she began working as a model. During the Cannes Film Festival, she was invited to take part in the Miss France contest, and won it.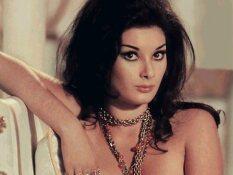 Subsequently, she began working in cinema, her first roles being sexy-comic German films directed by Josef Zachar. Her career in Italian cinema began with parts in Italian giallos, from
Five Dolls For An August Moon
(
Cinque bambole per la luna d'agosto
) (1969) by Mario Bava to the renowned
The Strange Vice Of Mrs Wardh
(
Lo strano vizio della signora Wardh
) (1971), in which she was the leading actress. Fame was only really to come her way, however, with a somewhat "decamerotic" film,
Ubalda, All Naked And Warm
(
Quel gran pezzo dell'Ubalda tutta nuda e tutta calda
), produced by Mariano Laurenti in 1972: this refined farce, whose success was due in part to the undeniable comic verve of Pippo Franco, imposed "her serene and potent sexual attraction... exhibited generously, yet virtually without malice". The last popular incarnation of the "sex bombs" so in vogue twenty years earlier, Fenech chalked up a second extraordinary success with
Giovannona Coscialunga disonorata con onore
(1973) by Sergio Martino, once again starring opposite Pippo Franco and using her overwhelming physical presence so well that she became idolized by male audiences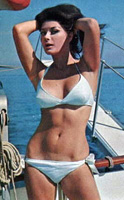 Subsequently – riding the wave of the box office success of
Malice
(
Malizia
)" (1973) by Salvatore Samperi – she was to embark on the lucrative new "school" subgenre, with the successful
The School Teacher
(
L'insegnante
) (1975) by Nando Cicero, followed by several other films on this theme. In an attempt to evade the Procrustes' bed of soft-core, she even made a few forays into traditional comedy: more than in the muddled
Evil Thoughts
(
Cattivi pensieri
) (1976) by Ugo Tognazzi, she was endearing and charming in
Hot Potato
(
La patata bollente
) (1979) by Steno, starring alongside an explosive Renato Pozzetto.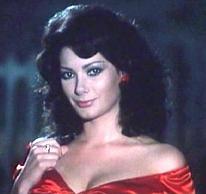 In the 1980's, she focused her efforts on TV work, as both actress and presenter (presenting
Domenica In
1989-90), later moving on to produce TV series.
In the mid-1990's, she was engaged to famous Italian industrialist Luca Cordero di Montezemolo, president of Ferrari Cars, headchief of the organization of the 1990 Football World Cup in Italy, and, since May 2004, president of the FIAT Group.
Sources:
[1] RAI International Online - http://www.italica.rai.it/eng/cinema/biographies/fenech.htm
[2] IMDb