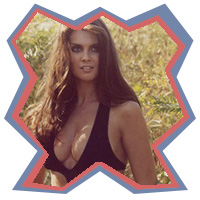 Leggy, brunette-maned pin-up actress Caroline Munro was born in Windsor and lived in Rottingdean near Brighton where she attended a Catholic Convent School. By chance her mother and a photographer entered her picture in a "Face of the Year" competition for the British newspaper The Evening News and won. This led to modeling chores, her first job being for
Vogue Magazine
at the age of 17. She moved to London to pursue top modeling jobs and became a major cover girl for fashion and TV ads while there. Decorative bit parts came her way in such films as
Casino Royale
(1967) and
Where's Jack?
(1969). One of her many photo ads got her a screen test and a one-year contract at Paramount where she won the role of Richard Widmark's daughter in the comedy/western
A Talent For Loving
(1969). She met first husband/actor Judd Hamilton filming this movie but they later divorced. Also in 1969 she became the commercial poster girl for Lamb's Navy Rum, a gig that lasted ten years.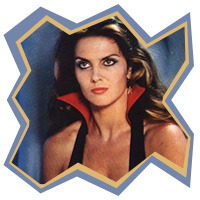 She had (obviously) no lines playing a corpse (actually Vincent Price's dead wife) in
The Abominable Dr. Phibes
(1971) and
Dr. Phibes Rises Again
(1972) which, in turn, led to a Hammer Studios contract and such lowbudget spine-tinglers as
Dracula A.D. 1972
(1972) and
Kronos
(1973). Her better roles came outside the studio as the slave girl/love interest in
The Golden Voyage of Sinbad
(1974), the princess in
At the Earth's Core
(1976) and a Bondian girl in the top-notch
The Spy Who Loved Me
(1977), one of Roger Moore's best outings in the '007' series.
Her voluptuous looks sustained her for a bit longer but the quality of her roles did not improve with higher visability. By the late 1970's she was reduced to such dreck as
Starcrash
(1979),
Maniac
(1980), and
Slaughter High
(1986). After her second marriage to George Dugdale, who wrote and directed the last film mentioned, she settled down and focused on husband and two daughters.