Cynthia Luster was born Tsumura Yukari on December 31, 1963 in Nishi-ku, Fukuoka, Japan to a successful Japanese businessman and fashion designer and to a Chinese woman.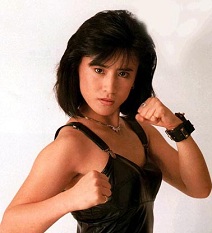 When she was in elementary school, her parents divorced and she went to live with her mother who ran a small restaurant. As a child she practiced karate in junior high school, represented Kyushu in several competitions and eventually won the woman national karate championship. During her attendance in the Nippon College of Health and Physical Education for women, where she studied physical education, she saw the film
Young Master
(1980), directed by and starring Sing Lung, and decided enrolling into the JAC (Japan Action Club) to become a stuntwoman. She finally changed her name to "Oshima" and debuted in the TV series
Super Electron Bio-Man
in 1984. At that time part of the JAC, Asia Action, became independent and based in Hong Kong and Yukari decided to leave Japan.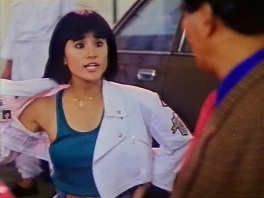 She was one of Japan's brightest female martial artists during the 1980's and one of the leading ladies of the babes and bullets fad of Hong Kong action cinema. She's known as the role "Farrah Cat" in
Bioman
, which aired not only in Japan originally but also worldwide. She is best known to Western audiences as Yomi in
Riki-Oh
. After her Hong Kong career dried up, she left for the Philippines in the 1990's and used the stage name Cynthia Luster.
Oshima now resides in Fukuoka, Japan, where she's promoted tourism in the city. She is commonly known to Western audiences as the actress in the Marlboro Lite commercials in the late 1990's.
From the Internet Movie database (IMDb) and Wikipedia, the free encyclopedia.