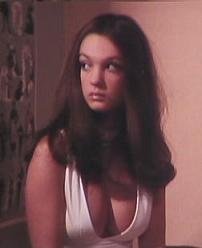 Britt Christina Marinette Lindberg was born on December 6, 1950, in Gothenburg, Sweden. She is one of Sweden's most famous centerfold and exploitation film stars.
Lindberg grew up in a working class home in Annedal, Gothenburg, together with her sister and three brothers.[1] She studied Latin at school and planned to continue her studies in archeology.
During her high school years (she was around 18 years old) she started posing nude for men's magazines, such as FIB Aktuellt and Lektyr, after having garnered some attention posing in bathing suits for newspapers.[2] She became a popular centerfold due to her doe-eyes, sweet doll-face and well-proportioned body. She later appeared in men's magazines such as Penthouse (U.S.), Playboy (U.S.), Lui (France) and Mayfair (UK). She was a Penthouse Pet in the June 1970 issue of Penthouse.[3]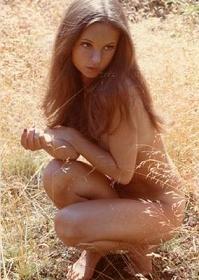 She has appeared or starred in 23 feature films, most of which have been erotica, exploitation or softcore pictures. Her first movie was an American production,
Maid In Sweden
, filmed in Sweden with a Swedish cast. She got her second role in Jan Halldoff's comedy
Rötmĺnad
which was released in 1970. The film was seen by over 250,000 Swedes and went on to become a commercial success.[4] Her third film,
Exponerad
, was released with a lot of hoopla at the Cannes festival in 1971 and turned her into an international celebrity.[5]
A long string of exploitation films followed, many of which were filmed in Germany and Japan. As part of the marketing campaign for Exponerad she also went on a publicity trip to Japan, which later resulted in an invitation to appear in Japanese exploitation films. In Japan she played a major supporting role in Norifumi Suzuki's Pink film classic
Sex & Fury
. In 1972 she starred as Madeleine in
Bo A
. Vibenius's controversial film Thriller - en grym film. Director Quentin Tarantino expressed his admiration for both the film and Lindberg's performance,[6] and Madeleine later served as an inspiration for Uma Thurman's character in Tarantino's
Kill Bill
. In
Kill Bill
he also borrowed elements from
Sex & Fury
.[7] In the action-comedy spoof
Sex, Lögner & Videovĺld
Lindberg made a brief cameo as Madeleine.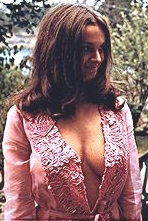 Lindberg did not like that nude pictures were getting more and more explicit and during the filming of Gerard Damiano's
Flossie
(aka:
Natalie
in West Germany, she left the set and returned home to Sweden. Damiano (who also directed the infamous
Deep Throat
) persuaded Lindberg to leave because he knew that it was going to be a hardcore film. For several years the German producer tried to bring her back in an attempt to complete the film. According to Videooze (No. 8, 1996), about 1,000 meters of film had been shot by Damiano. Production stopped and never resumed.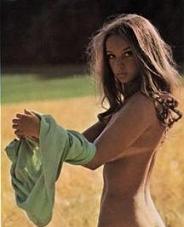 She made an attempt to enter the theater school Scenskolan in 1975 after having taken private lessons from Öllegĺrd Wellton, but failed after having passed two out of three tests.[2] She continued posing and writing for men's magazines while studying journalism at Poppius,[8] and she eventually established herself as a journalist.
In 1972 she had fallen in love with Bo Sehlberg and she later started to work for his aviation magazine
Flygrevyn
. When her fiancé died in 2004, she became the owner and editor-in-chief of the magazine, which is the largest aviation magazine in Scandinavia.
From Wikipedia, the Free Encyclopedia.

References:

[1]. ^ a b c d e Videooze, Number 8, 1996 (Cult-film magazine)
[2]. ^ a b Looking for Mushrooms with Christina Lindberg www.dvdtimes.co.uk
[3]. Penthouse Pets Penthousepets.net
[4]. Swedish Film Database Svenskfilmdatabas.se
[5]. ^ Interviews with Lindberg and director on Swedish DVD-release of Exposed
[6]. ^ Tarantino interview by Tomohiro Machiyama in Movie Treasures Magazine
[7]. ^ IMDB Movie Connections IMDb.com
[8]. ^ Interviews with Lindberg on Swedish DVD-release of Wide Open