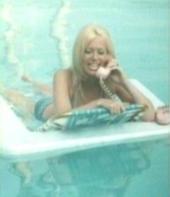 Slim, shapely and well-tanned blonde bombshell Cheri Caffaro was born on April 29, 1945 in Miami, Florida. Caffaro won a
Lifetime
magazine Brigitte Bardot lookalike contest when she was a teenager.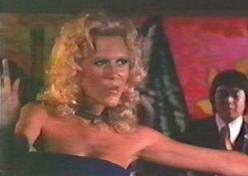 Cheri achieved a substantial amount of 70's exploitation cinema notoriety by portraying sexy, resourceful and formidable undercover government agent Ginger McAllister in a delightfully down'n'dirty trio of blithely seedy drive-in soft-core action romps: the supremely scuzzy
Ginger
, the splendidly sleazy
The Abductors
(1972), and the pleasingly trashy
Girls Are for Loving
(1973). The
Ginger
pictures were a series of gleefully low-rent affairs with a funky distaff James Bond-type anti-heroine using both her brains and her body to thwart assorted nasty criminals. Caffaro brought a hard, fierce, steely edge and raw, earthy, unbridled sex appeal to the part of Ginger that's alluring and unnerving in equal measure.
Cheri was likewise solid and effective as a stuck-up spoiled rich woman in the tawdry
A Place Called Today
(1972), a tough revolutionary in the fun
Savage Sisters
(1974), and a cunning, deadly, yet enticing international lady assassin in the entertainingly tacky
Too Hot To Handle
(1977).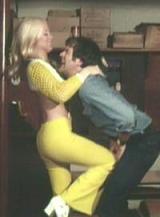 Caffaro's moment in the acting spotlight proved to be fleeting. Cheri went on to co-write and co-produce the hilariously raunchy comedy hoot
H.O.T.S.
(1979). She also served as an associate producer for the cruddy horror flick
The Demons Of Ludlow
(1983). Her last known credit is supplying a voice for the
Extreme Ghostbusters
(1997) cartoon TV series. Cheri Caffaro abruptly quit show business and seems to have altogether vanished into thin air.
From the Internet Movie Database (IMDb)