Henry Silva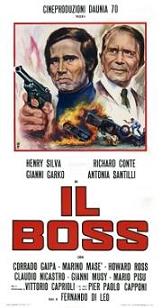 IL Boss
(1973)
$19.99 - Free Shipping In The USA
aka's: The Boss/Murder Inferno/Wipeout!
Henry Silva stars as a ruthless hitman who is caught up in an inter family Mafia war. It is a tale of continuous double cross, as the body count increases at a relentless pace within an organization that penetrates not only the police, but also the government, with whom the mob has a symbiotic relationship. Also stars Richard Conte and Gianni Garko. Also with Antonia Santilli.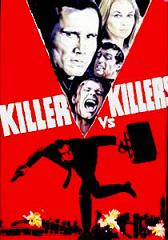 Killer vs Killers
(1985)
$19.99 - Free Shipping In The USA
aka's: Killer Contro Killers/Death Commando
An Arab oil sheik hires a group of underworld pros, led by Sterling (Henry Silva), to steal a top secret formula for synthetic fuel and destroy the manufacturing plant. However, when the team finishes the job, the sheik gives orders to eliminate them. Sterling, armed with pistols, grenades, bazookas and zoo animals, sets out for revenge. Also stars Dalila Di Lazzaro and Albert Janni. (In Italian language, with English subtitles).

This film comes from a widescreen import print in very nice picture quality.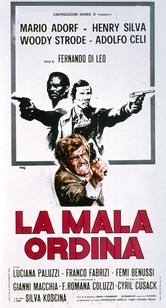 La Mala Ordina
(1972)
$19.99 - Free Shipping In The USA
aka's: Black Kingpin/Der Mafia Boß/Der Mafiaboss/Der Tod Des Paten/Hired To Kill/Hit Men/Hitmen/Man Hunt/ Manhunt In Milan/Manhunt In The City/The Italian Connection
Small-time pimp Luca Canali (Mario Adorf) is hunted by both local mobsters and two killers (Henry Silva and Woody Strode) sent by the New York mafia after a shipment of heroin fails to arrive. But it becomes apparent he is not as soft as he appears as a deadly cat-and-mouse game is played out on the streets of Milan. The film contains a dramatic chase scene where Canali pursues an assassin both on car and on foot. Also with Adolfo Celi, Sylva Koscina and Lara Wendel (uncredited).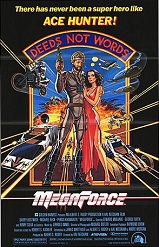 Megaforce
(1982)
$19.99 - Free Shipping In The USA
aka: Mega Force
Ace Hunter (Barry Bostwick) is the leader of Megaforce, an elite group of American soldiers who travel the world to fight Evil. In this case, Evil is represented by a third rate dictator who they must blow to bits. Also with Michael Beck, Edward Mulhare, Henry Silva, Robert Fuller and Persis Khambatta, the bald lady in Star Trek: The Motion Picture (1979).

On August 17, 1998, Persis Khambatta was taken to the Marine Hospital in South Mumbai, India complaining of chest pains. She died of a heart attack on August 18, 1998 at age 49, her funeral was held in Mumbai.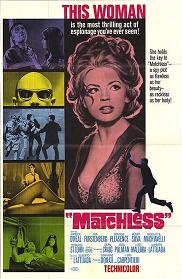 Mission Top Secret
(1967)
$19.99 - Free Shipping In The USA
aka's: Matchless/Incomparable/Mission T.S./Sin Rival
In this spy spoof, Patrick O'Neal stars as a suave secret agent who gets his hands on a mystical ring that grants him the power of invisibility for a 10-hour period. As a number of rivals--including his sleazy partner--try to track him down, he travels throughout Europe. Also stars Ira von Fürstenberg, Donald Pleasence and Henry Silva. And with Nicoletta Machiavelli and Sorrell Booke.


NOTE: The picture quality for this film is a bit grainy and the color is rather faded, but it is still the best English language version currently available anywhere.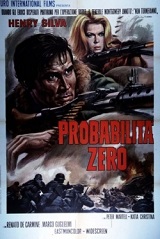 Probability Zero
(1969)
$19.99 - Free Shipping In The USA
aka's: Probabilità Zero/Heroes Never Die
Duke (Henry Silva) leads a crack commando unit on a mission to German-occupied Norway, to infiltrate a Nazi factory and destroy captured radar technology. Also stars Luigi Casellato and Riccardo Salvino.


This film comes from a very nice uncut widescreen import print.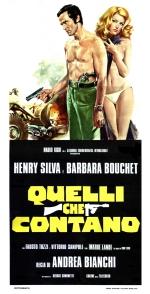 Quelli Che Contano
(1974)
$19.99 - Free Shipping In The USA
aka's: Cry Of A Prostitute/Cry Of A Prostitute: Love Kills/Cry Of The Prostitute/Guns Of The Big Shots
Back in Sicily from the United States, assassin Tony Aniante (Henry Silva) works with ex-hooker Margie (Barbara Bouchet) to stop a mafia family blood feud. (From a widescreen import print, in Italian language).

This print is of far superior picture quality to the U.S. version.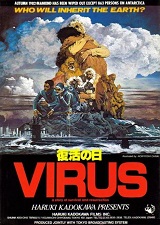 Virus
(1980)
$19.99 - Free Shipping In The USA
aka's: Fukkatsu No Hi/Day Of Resurrection/復活の日
A genetically-engineered virus is accidentally released in a plane crash--with dire consequences. A small group of surviving multinational scientists in the Antarctic desperately searches for a cure to save what is left of the human race. With appearances by Masao Kusakari, Tsunehiko Watase, Sonny Chiba, George Kennedy, Bo Svenson, Olivia Hussey, Edward James Olmos, Chuck Connors, Glenn Ford, Robert Vaughn and Henry Silva. (156-minute uncut version).



Henry Silva. Super Strange Video has the ultimate collection of rare and vintage cult, horror, sci-fi, erotic movies. Featuring Barbara Steele, Bela Lugosi, Boris Karloff, Brigitte Lahaie, Bruce Li, Christopher Lee,, Evelyn Ankers, Frankenstein, Gamera, George Sanders, Guiron, Helga Line, Jiger, Kumi Mizuno, Lon Chaney, Lorena Velazquez, Michael Gough, Michael Rennie, Paul Naschy, Peter Cushing, Robert Reed, Santo, Starman, Ted Cassidy, Valerie Leon, Vincent Price, Viras, Zigra