Item Added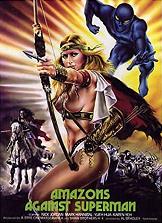 Amazons Against Supermen
(1974)
$14.99
aka's: Superuomini, Superdonne, Superbotte/Amazons And Supermen/Supermen Against The Amazons/San Chao Ren Yu Nu Ba Wang
Marvel as men fly to hair raising heights on birds' wings. Thrill to the attack of the world's first armored tanks. Shudder at incredible feats of super human strength. Three men with supernatural powers interfere in a tribal warfare to prevent evil Amazons destroying the inhabitants of a village. Stars Nick Jordan, Mark Hannibal, Yueh Hua, Karen Yeh and Malisa Longo.

In DVD-R format. 1 in stock.

Quantity: 1


Factory DVDs. Super Strange Video has the ultimate collection of rare and vintage cult, horror, sci-fi, erotic movies. Featuring Barbara Steele, Bela Lugosi, Boris Karloff, Brigitte Lahaie, Bruce Li, Christopher Lee,, Evelyn Ankers, Frankenstein, Gamera, George Sanders, Guiron, Helga Line, Jiger, Kumi Mizuno, Lon Chaney, Lorena Velazquez, Michael Gough, Michael Rennie, Paul Naschy, Peter Cushing, Robert Reed, Santo, Starman, Ted Cassidy, Valerie Leon, Vincent Price, Viras, Zigra