Item Added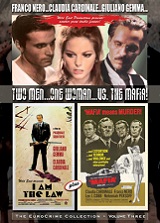 I Am The Law/Mafia
(1977, 1968)
$9.95
The EuroCrime Collection - Volume 3

I Am The Law (1977)
aka's: Il Prefetto Di Ferro/The Iron Prefect
The film tells the story of Cesare Mori (Giuliano Gemma), an Italian prefect that before and during the Fascist period was best known as "The Iron Prefect." Also stars Claudia Cardinale.

Mafia (1968)
aka's: Il Giorno Della Civetta/The Day Of The Owl
Rosa Nicolosi (Claudia Cardinale) is not the widow of Salvatore Colasberna, the man murdered in the beginning of the movie, but she is in fact the wife of Paolo Nicolosi, the only eyewitness of the murder. Paolo goes missing the same morning as the murder occurs. Also stars Franco Nero and Lee J. Cobb.

1 in stock.

Quantity: 1



Factory DVDs. Super Strange Video has the ultimate collection of rare and vintage cult, horror, sci-fi, erotic movies. Featuring Barbara Steele, Bela Lugosi, Boris Karloff, Brigitte Lahaie, Bruce Li, Christopher Lee,, Evelyn Ankers, Frankenstein, Gamera, George Sanders, Guiron, Helga Line, Jiger, Kumi Mizuno, Lon Chaney, Lorena Velazquez, Michael Gough, Michael Rennie, Paul Naschy, Peter Cushing, Robert Reed, Santo, Starman, Ted Cassidy, Valerie Leon, Vincent Price, Viras, Zigra