Item Added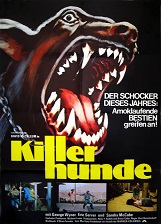 Killer Hunde (Uncut Version)
(1976)
$19.99
aka's: Dogs/Killerhunde/Slaughter
On the quiet campus of the remotely-located Southwestern University, something strange is happening. All of the dogs in the area, once loyal, gentle pets, are now banding together in wild packs and hunting down their former masters. Could the strange transformation have anything to do with the secret government experiments being conducted in the school's physics laboratory? More importantly, can the dogs be stopped before it's too late? Stars David McCallum, Sandra McCabe and George Wyner. Also with Linda Gray of Dallas fame.


This film comes from an uncut widescreen German import print in very good picture quality.

Quantity: 1


Sci-Fi, Horror, Cult, Fantasy.... Super Strange Video has the ultimate collection of rare and vintage cult, horror, sci-fi, erotic movies. Featuring Barbara Steele, Bela Lugosi, Boris Karloff, Brigitte Lahaie, Bruce Li, Christopher Lee,, Evelyn Ankers, Frankenstein, Gamera, George Sanders, Guiron, Helga Line, Jiger, Kumi Mizuno, Lon Chaney, Lorena Velazquez, Michael Gough, Michael Rennie, Paul Naschy, Peter Cushing, Robert Reed, Santo, Starman, Ted Cassidy, Valerie Leon, Vincent Price, Viras, Zigra