Item Added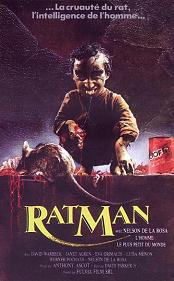 Ratman
(1988)
$19.99
aka's: Quella Villa In Fondo Al Parco/Terror House
A deranged scientist in South American successfully cross-breeds a rat with a monkey, creating a creature with poisonous teeth and claws. The creature, named Mousey (Nelson De La Rosa), then runs amok and kills some young models who are on a photo shoot. When one of these women (Eva Grimaldi) is reported missing her sister Terry (Janet Agren), along with a reporter (David Warbeck) go in search of her, following the trail to the scientist's old house deep in the jungle. Also with Werner Procath.

Nelson De La Rosa died at the age of 38 on September 22, 2006 of heart failure.

Quantity: 1



Sci-Fi, Horror, Cult, Fantasy.... Super Strange Video has the ultimate collection of rare and vintage cult, horror, sci-fi, erotic movies. Featuring Barbara Steele, Bela Lugosi, Boris Karloff, Brigitte Lahaie, Bruce Li, Christopher Lee,, Evelyn Ankers, Frankenstein, Gamera, George Sanders, Guiron, Helga Line, Jiger, Kumi Mizuno, Lon Chaney, Lorena Velazquez, Michael Gough, Michael Rennie, Paul Naschy, Peter Cushing, Robert Reed, Santo, Starman, Ted Cassidy, Valerie Leon, Vincent Price, Viras, Zigra