Item Added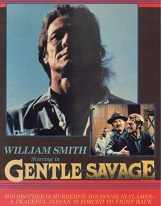 Gentle Savage
(1973)
$19.99
aka's: Prologue To Wounded Knee/Camper John/Up Yours, Pilgrim/Once Upon A Tribe
When an Indian is wrongly accused of raping and beating a white woman, the white community seeks revenge. The vengeful mob, led by the woman's step-father, is unaware that it's really the step-father who is responsible for the crime. When the accused's brother is slain, the Indian community retaliates. With William Smith and Joe Flynn (aka: Captain "Lead Bottom" Binghamton in McHale's Navy).

On July 19, 1974, Joe Flynn died of a heart attack in the swimming pool of his Beverly Hills home. Apparently, he had gone into the pool with a cast on his broken leg. His body was found at the pool bottom, held down by the weight of the cast. He was 49 years old.

Quantity: 1


Sci-Fi, Horror, Cult, Fantasy.... Super Strange Video has the ultimate collection of rare and vintage cult, horror, sci-fi, erotic movies. Featuring Barbara Steele, Bela Lugosi, Boris Karloff, Brigitte Lahaie, Bruce Li, Christopher Lee,, Evelyn Ankers, Frankenstein, Gamera, George Sanders, Guiron, Helga Line, Jiger, Kumi Mizuno, Lon Chaney, Lorena Velazquez, Michael Gough, Michael Rennie, Paul Naschy, Peter Cushing, Robert Reed, Santo, Starman, Ted Cassidy, Valerie Leon, Vincent Price, Viras, Zigra