Item Added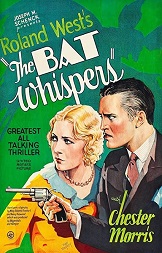 The Bat Whispers (Widescreen 65mm Version)
(1930)
$19.99
aka's: Roland West's The Bat Whispers/The Bat
The Bat, a master criminal who dares the police to catch him, has been terrifying the city. A bank is robbed, and the home of the bank president becomes the center of mysterious happenings. Amidst thrills, chills and laughs, the stolen money is discovered, and the Bat's secret identity is revealed! Stars Chester Morris and Una Merkel.

NOTE: This film was shot in regular 35mm format and an experimental 65mm widescreen format. Offered here is the very rare 65mm widescreen version.

Quantity: 1


New Arrivals. Super Strange Video has the ultimate collection of rare and vintage cult, horror, sci-fi, erotic movies. Featuring Barbara Steele, Bela Lugosi, Boris Karloff, Brigitte Lahaie, Bruce Li, Christopher Lee,, Evelyn Ankers, Frankenstein, Gamera, George Sanders, Guiron, Helga Line, Jiger, Kumi Mizuno, Lon Chaney, Lorena Velazquez, Michael Gough, Michael Rennie, Paul Naschy, Peter Cushing, Robert Reed, Santo, Starman, Ted Cassidy, Valerie Leon, Vincent Price, Viras, Zigra